"listen, are you breathing just a little
and calling it a life?"
~ mary oliver
the living breath brings breath to life
we are born to breathe, to fill our lungs with life and life-giving oxygen, to expel the holdings of stress and carbon dioxide. when we are infants, we naturally breathe from the diaphragm, gently expanding our abdomen, bringing our breath to our lives in the most natural and important way.
as we age, we unconsciously learn to breathe shallowly by tightening our bodies and holding our breath to avoid feeling painful or unsafe feelings. these responses to life become habitual over time.
re-learning to open our full breathing space helps us to repattern our "defensive" ways of breathing and being to experience living life more fully in the present moment, allowing ease and balance in the body/mind system.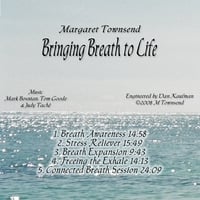 bringing breath to life cd and mp3
i'm a certified breathing facilitator with almost 20 years experience using various holistic practices to assist others in stress management and self-awareness. my intention is to support the memory of the body's innate wisdom and aliveness, which is always and only present right here and now.
once we re-experience our free, open way of breathing, our natural birthright, it is available to use as a support for the rest of our lives. bringing our breath back to our lives means we have the ability to live with more energy, to calm and balance the nervous system in the moment, to have a health promoting, stress relieving 'tool', and to know that our breath is a comforting companion that allows us to willingly meet whatever life brings to us.
no matter what your age or your physical condition, there is more breathing space to relax into. i have seen many people who have had breathing limitations from severe physical conditions and extreme anxiety to everyday stresses, and there has always been access to a freer and easier breath. the body does remember this natural gift, and it is never too late to repattern restricted breathing. it is never too late to feel our natural state of peace and well-being.
could it be as simple as fully receiving your inhale and freely allowing your exhale?
"joy becomes the experience we receive through a breathing life."
-illse middendorf
to contact margaret for more information about the living breath call 503.635.2981